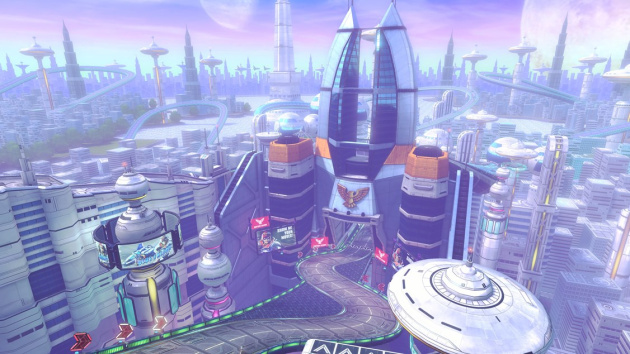 I know lots of things are supposed to be going through your mind at any given time, but it seemed there was only one thing on my mind this morning: the new Legend of Zelda x Mario Kart 8 DLC that arrived on Wii U. I spent as much time as I could racing the 8 new tracks, and this is personally how I'd rank them against one another:
Number 8 – Yoshi Circuit (GCN)
I didn't play Double-Dash!! much (apologies for that), so I don't remember a Yoshi Circuit at all. And even after today, unfortunately, I probably won't remember poor ol' Yoshi Circuit too well down the road. I do like that the sharp and frequent turns give me a challenge, but that's not enough to set this track apart and make it memorable.
Number 7 – Excitebike Arena
The fact that the jump and boost pad locations are different every time you race in Excitebike Arena makes it feel really fresh for the Mario Kart series. Again, it's a nice test of skill. It's just too bad the shape of the track remains the same every time.
Number 6 – Wario's Gold Mine (Wii)
Before Mario Kart 8 even came out, I was excited for anti-gravity and the way it seemed to make tracks almost roller coaster-like. Many of the base tracks delivered on that promise, but Wario's Gold mine delivers the best, if you ask me. There are two massive dips in the course, along with a section of anti-gravity track that banks and curves downward, which all adds up to a course from Mario Kart Wii well-remade.
Number 5 – Ice Ice Outpost
The two tracks (one yellow, one green) that constantly intertwine are only half of what makes Ice Ice Outpost so awesome: this course has a few hard-to-spot secret paths that are rewarding to locate and use. The narrow moments also provide a pretty good challenge.
Number 4 – Rainbow Road (SNES)
The remastered Rainbow Road course hit me with an unexpected burst of color and nostalgia. The shape of this track is not the most exciting, but the visuals, the intense wave of the course when thwomps hit it, and the music all add up to a remake that is well worth revisiting, even though this is its second remake in 2 games.
Number 3 – Hyrule Circuit
It's the little things that impress me about Hyrule Circuit. Instead of coins, there are green rupees (which even make the rupee jingle when you collect them). Instead of piranha plants, there are deku babas. Instead of bats, there are keese. On top of being wholly Legend of Zelda, Hyrule Circuit is a very well-designed course, and there's even a reward for players who hit three consecutive anti-gravity bumpers that double as Zelda-like switches going down a winding staircase. You'll have to discover that one on your own.
Number 2 – Mute City
Mute City is understandably an anti-gravity course all the way through, and it delivers on all the hopes and dreams you could have possibly had in regards to anti-gravity. The graphics are stunning, and the frequent speed boosts make for some of the most thrilling racing ever to appear in a Mario Kart game.
Number 1 – Dragon Driftway
Dragon Driftway was another course that was out of left field, but in the best possible way. The Asian motif of this course never falters, and it is brilliantly-designed to boot. It is number one in my mind because it's fun, visually strong, and well-rounded.
It's hard to rank such a strong line-up of courses, which means that everyone's list will be different. What's yours?